The Greatest Development in Personal Hygiene Since Toilet Paper

The Greatest Development in Personal Hygiene Since Toilet Paper
Elevate your bathroom experience and say:
Goodbye Dry ~ Hello Clean!
– Not since John Gayetty invented toilet paper (TP) in 1857 has there been such an advancement in personal toilet hygiene! By creating a line of natural, plant-based Cleanzing Waters, Cleanzing Company has solved the vexing challenge of achieving a cleaner, more luxurious toilet experience while minimizing the impact of plastics on the environment.
When moistened wipes are used in place of toilet paper, a potentially cleaner bottom results. But disposed wipes contain non-degradable plastics that are creating serious environmental issues by wreaking havoc on septic systems, municipal water treatment plants, and landfills. Instead of biodegrading safely, wipes fragment into micro-plastics that are contaminating our oceans, our marine life and as much as 25% of the fish and seafood we consume.*
To achieve a more luxurious, satisfying, and eco-friendly toilet wipe, Cleanzing Company has developed a line of Witch Hazel-based Cleanzing Waters that can be sprayed directly onto the consumer's TP of choice. The result is the best of both worlds – a soft, moist, comfortable and hygienic wipe that minimizes any environmental impact.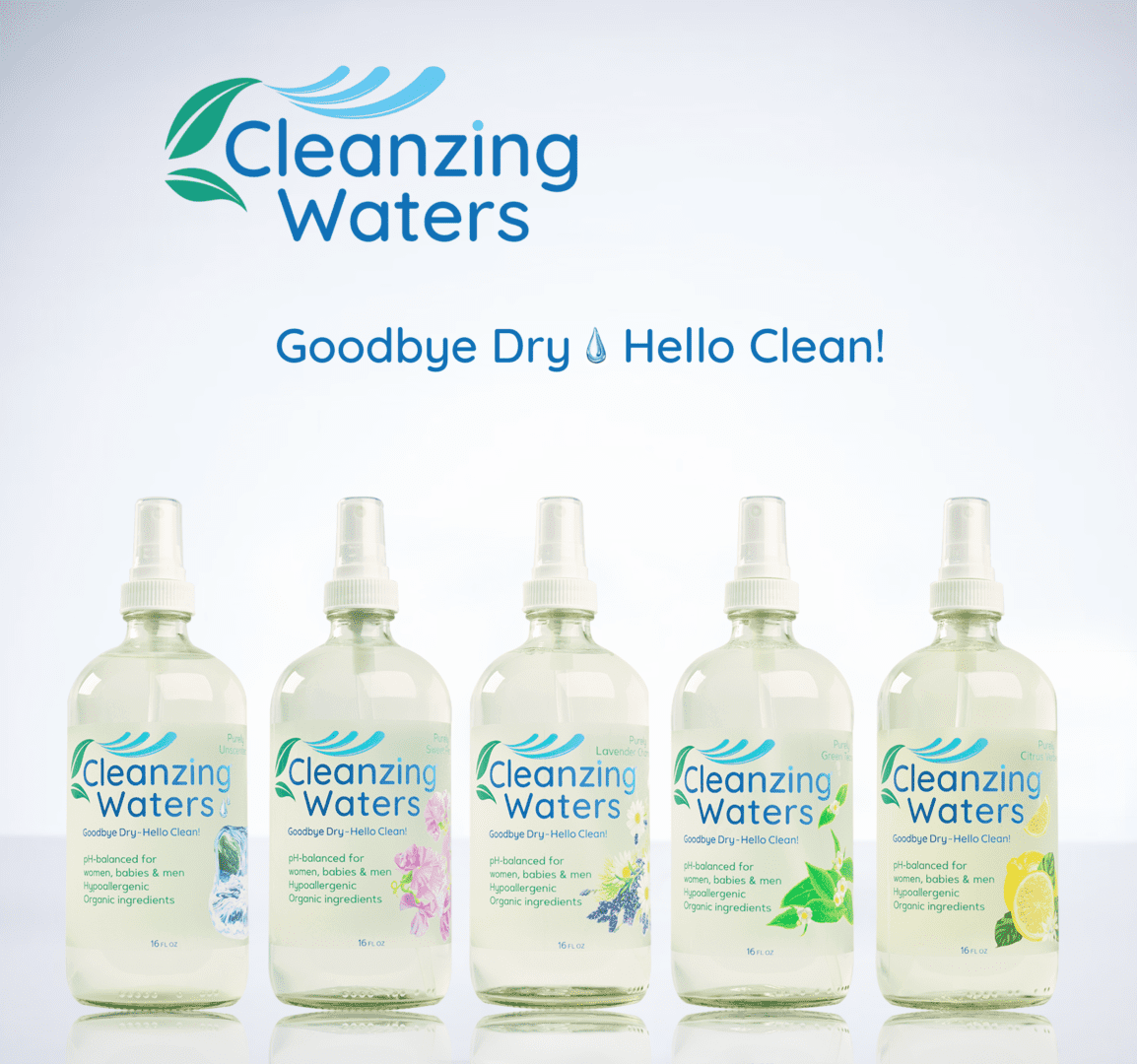 Because Cleanzing Company Waters are Witch Hazel-based, their astringent and antioxidant properties also make them an excellent skin cleanser and toner. Hypoallergenic and pH-balanced for a woman's body, Cleanzing Waters are safe for women's, men's and infant's bottoms, facial skin and private areas. Comforting, cleansing, convenient, and eco-friendly, Cleanzing Waters live up to their tagline:
"Goodbye Dry ~ Hello Clean!"
Waters come in Citrus Verbena, Sweet Pea, Green Tease, Lavender Chamomile, and Unscented – all of which are suitable for women, men, and babies. Waters' 2 and 16 oz. glass bottles are refillable and dishwasher safe. Two oz. bottles are so portable, you'll never have to carry packaged moist wipes again. Paired with Cleanzing's Spraymiss® touch-free dispenser, the 16 oz. bottle provides the most sanitary, germ-free method of managing bathroom hygiene. The economical 34 oz. size can be used to refill smaller bottles.
| | |
| --- | --- |
| | Cleanzing Company's Waters and Spraymiss touch-free dispensers elevate your hygienic lifestyle providing a comfortable, convenient and eco-friendly toilet experience. |
| | Video: 'Why Cleanzing? |
Spraymiss dispensers easily attach to any Cleanzing Company 16 oz. hygienic or home care product, and provide years of convenient, touch-free, germ-free dispensing. Spraymiss may be placed on a countertop, or wall-mounted using the included bracket. Powered either by four C batteries, or an optional electrical wall adapter, Spraymiss stands at the ready to mist Waters onto any media that passes within three inches of its sensor.
Watch an instructional video, and learn more about Cleanzing Company's full line of personal and home care products by visiting http://www.cleanzing.com.
*Source: University of California
About Cleanzing Company, LLC
Cleanzing Company develops and markets personal and home care products with two over-arching objectives: providing very high quality, luxurious natural products that elevate consumer lifestyles, and reducing the environmental impact of polluting plastics. The core products include Cleanzing Waters, Hair & Body Washes, Skin Moisturizers, Hair Conditioners, Dish Liquids, Laundry Detergents, Spraymiss® touch-free dispensers, Safe Hands Hand Sanitizer, and a line of uniquely sized 100% cotton, ultra-fine towels. Find out more at www.cleanzing.com.
Copyright © 2018-2020 Cleanzing Company, LLC
(978) 369-6556
If you do not wish to receive future emails, unsubscribe or contact Customer Care at the number above.